CAQ supports you in quality assurance and quality management of business processes.

Your CAQ Software system – together with the quality of your company's products and services – are hugely important to the success of your business . The right quality management system coordinates and documents all the organizational measures used to ensure the high quality of your products and processes throughout the value chain. This is exactly where CAQ systems come into play.

CAQ supports you in maintaining and managing the quality of your business processes. It controls the implementation of all your measures, monitors compliance with your quality targets and provides a continuous stream of information from your quality-relevant processes as a foundation on which to base your decisions. Only if your processes are defect-free will your products also be defect-free.

Have you already acquired plenty of information on the topic of CAQ – and are now looking for a suitable CAQ system? Then you have arrived at exactly the right place – our webpage on our CAQ Software.

ALL THE BASICS CLEARLY SUMMARIZED FOR YOU:

What is a CAQ system?
CAQ standards and guidelines
What are the tasks and goals of a CAQ system?
Quality assessment indicators
What should you watch out for when looking for a CAQ provider?
How does working with a CAQ system actually work?
CAQ in your development and quality planning processes
CAQ quality assurance software in your materials process
Deploying our CAQ system in your quality management and support processes
WHAT IS CAQ?
The abbreviation CAQ stands for "Computer-Aided Quality Assurance". This means that CAQ is part of the quality management system used throughout your company. The central objective is to control all your quality-relevant processes in such a way as to be able to reliably avoid defects – and to achieve this as efficiently as possible. To accomplish this, CAQ supports the entire value chain, from the product development phase to the production process, including all the additional business processes that serve to maintain quality levels. In addition to being able to prevent defects reliably, the greatest advantage of CAQ from a quality management and assurance perspective is the demonstrable increase in efficiency and amount of information available.

In most cases, CAQ is divided into individual functional areas, so-called "modules", which support different quality processes. All these modules are networked to form a closed feedback control system. In this feedback control system, quality-relevant data are continuously exchanged and used to improve the processes. Workflows can be automated to accelerate them. Analyses and reports are available at the touch of a button – without your first having to put a great deal of effort into compiling them.

STANDARDS AND GUIDELINES APPLYING TO CAQ SYSTEMS
CAQ systems are based on the standards and guidelines used to define a universally applicable standard for implementing a quality management system. Right at the top of the list is the DIN EN ISO 9001 quality management standard. Quality methods, such as APQP, FMEA, 8D, Ishikawa/the 5Whys and SPC are integral parts of a CAQ system.

Additional industry-specific requirements also expand the scope of performance of a CAQ software tool, including, for example, the IATF 16949 automotive standard and the specifications of the VDA, the Medical Devices Act or EN/AS 9100 for quality management systems in the aerospace industry.

In order to meet all of these requirements, CAQ systems generally include standard-compliant workflows, predefined structures and industry-specific quality assurance methods.

WELCHE AUFGABEN UND ZIELE HAT EIN CAQWHAT ARE THE TASKS AND GOALS OF A CAQ SYSTEM??
The aim of deploying a CAQ system is to maintain quality levels throughout the entire value chain, to reliably avoid defects and to detect where there is potential for improvement. For example, CAQ is used to systematically initiate all the tasks even before the product is actually created, i.e. right at the start of the development process, in order to prevent defects in the downstream processes or finished product. CAQ systems reliably monitor the quality of the individual work steps in your materials process by way of targeted quality checks. In the case of series or mass production, the quality data are analyzed using statistical methods and used to control the processes.

Even the support processes, i.e. all those processes that are not directly connected with the product development, procurement or production processes, can be controlled with the help of CAQ. Each process step provides valuable information which the CAQ system processes and supplies in a compact form. Indicators, charts and reports provide the foundation on which the management bases its business decisions. To sum up, a CAQ system has an effect on all your quality planning, quality management and quality assurance processes.


QUALITY MONITORING INDICATORS
In CAQ, the quality information from all your processes is consolidated into key performance indicators (KPIs). KPIs not only provide objective proof of the quality of your products, but also document that you have complied with all customer requirements. In all your management areas, CAQ indicators also enable you to strategically assess your quality levels and progress.
The basis for calculation is derived from the quality inspections, supplier evaluations and assessments of your support processes, such as complaints tracking, auditing and action tracking, carried out using CAQ.
Through these indicators, CAQ systems are able to provide reliable and unfailingly up-to-date information on the quality of your processes – which in fact turns these KPIs into early warning indicators that allow you to counter any changes in quality very early on. At the same time, they allow you to monitor the success of any quality improvement measures implemented.


Our indicator management feature includes KPIs that cover
Delivery quality, such as ppm rates, number of defects and adherence to delivery dates, allowing you to evaluate your suppliers
Production quality, such as cp and cpk values, for assessing process capability
Product quality, such as defect frequencies, inspection costs, number of rejects
Service quality, such as the number of complaints, number of defects, defect costs
WHAT SHOULD YOU WATCH OUT FOR WHEN LOOKING FOR A CAQ PROVIDER?
When selecting a CAQ system, your primary and most important concern should be the specific requirements of your company. This means deciding on the scope of the software , i.e. the required functionality, as well as the installation details, which may include, for example, the languages supported and whether the system has to be networked with existing software.

Determining the basic requirements that need to be met by a powerful CAQ system helps you to find your bearings. So, if you are currently looking for CAQ software and in the process of comparing providers, you should consider the following points:
Is the system of a modular design so that you are flexible when putting it together and can add to it later on?
Does the CAQ system work in a process-oriented way so that it can be integrated into your value chain?
Can the CAQ software be networked with your existing software solutions, such as your ERP system (e.g. SAP), in a standardized manner?
Does the CAQ solution allow for the standards relevant to your particular industry?
How future-proof is the CAQ software – and how safe would your investment be? To what extent are future topics, such as mobile usage, browser capability, software security, cloud capability and networking, taken into account?


HOW DOES WORKING WITH A CAQ SYSTEM ACTUALLY WORK?
A process oriented CAQ system helps to meet your quality targets using indicators and other quality assurance instruments. To achieve this, the CAQ system supports all the quality-relevant processes within your company. These individual processes are monitored, controlled, analyzed and, in some cases, even automated by the software. CAQ's efficient and structured mode of operation and its reliable defect prevention feature demonstrably reduce quality costs. Also, increasing quality and reliability levels are a guarantee for keeping your customers happy.

As already described above, an integrated CAQ system supports all the processes that a product usually has to run through. These include:
The development process
The materials process
Support processes that are connected with the quality of your processes and products
CAQ IN YOUR DEVELOPMENT AND QUALITY PLANNING PROCESSES

CASQ-it is an integrated CAQ system offered by Böhme & Weihs – specially designed to maintain the quality of your business processes. Our CAQ modules control your quality management processes right from the very first stage in your product development process (PDP), thus creating the basis for reliable quality.

The following CASQ-it CAQ modules help you to proactively avoid defects right from the outset:
CLEARLY STRUCTURED PROJECT MANAGEMENT SYSTEM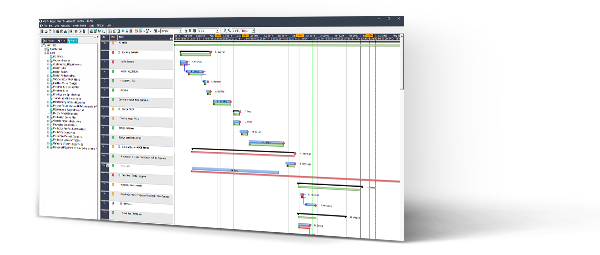 CASQ-it APQP is a project management module which was designed to handle your development projects. From the initial product concept to actually launching series production, our APQP software provides transparency throughout all the involved steps and ensures your project is appropriately controlled during all the separate phases:
1. Project planning
2. Project feedback
3. Project monitoring
4. Resource management
5. Lessons Learned

On the one hand, this provides you with a complete overview of the status quo, important milestones and the available resources. On the other, experience gained is automatically integrated to optimize the project template. At the same time, the system offers systematic communication control, not only internally, but also with your customers and suppliers.
RELIABLE DEFECT PREVENTION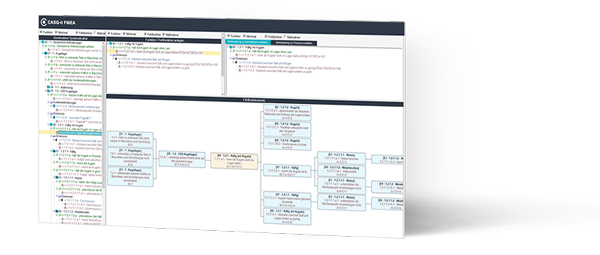 Using an FMEA tool, which stands for "Failure Mode and Effects Analysis", defects can be prevented before they occur. Potential causes of defects are identified even before the actual production gets under way so that respective prevention measures can be determined. Our CASQ-it FMEA module helps you through the following steps:
Structural analysis
Risk assessment
Action management
Success monitoring
Standard-compliant reporting
The option of tightly networking this module with the CASQ-it Control Plan and Inspection Planning modules lets you cover the entire product development process – providing you with a consistent quality assurance system.

STANDARD-COMPLIANT CONTROL PLAN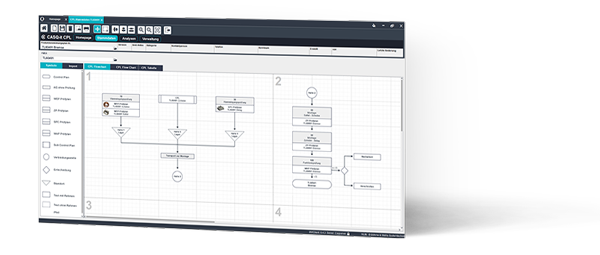 Our Control Plan software (CASQ-it CPL) controls advance quality planning for each of your delivery and production steps. The inspection plans for your shipments, production process and outgoing goods are created directly from the Control Plan via our integrated inspection planning tool. The graphical Control Plan then shows you the whole process sequence, including all the product checkpoints involved. CASQ-it CPL helps you to
Plan the structure of your processes
Visualize the processes in a process flow chart
Plan the details of your quality inspections
Compile your documentation according to the applicable regulations
The connection to CASQ-it FMEA ensures consistency right from the word go: All your process steps, product characteristics and process parameters are simply imported straight from your FMEA system into your Control Plan.

INTELLIGENT INSPECTION PLANNING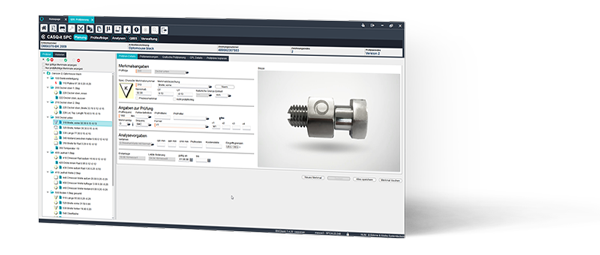 Our CASQ-it IPL module unites the different quality inspections from your incoming goods, production and outgoing goods sections in a common inspection plan structure. The inspection plans are created exceptionally fast through automated processes, aided, for example, by family test plans, exporting characteristics from the Control Plan, and automatically importing characteristics from CAD drawings. This reduces the administrative effort required for your inspection planning processes by up to 90%. CASQ-it IPL helps you to plan the quality inspections in the following areas:
Incoming goods inspections
Outgoing goods inspections
Production inspections
Statistical Process Control (SPC)
Gauge Management
COMPREHENSIVE GAUGE MANAGEMENT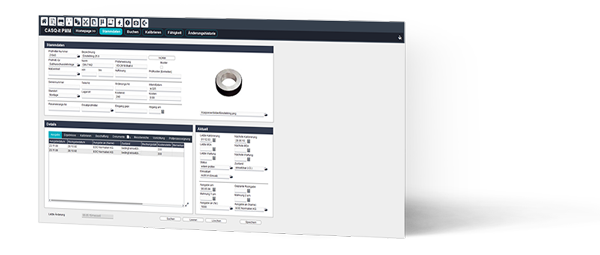 Each of your gauges can be reliably managed, monitored and calibrated using our CASQ-it GMS module. This gauge management software ensures that only capable gauges are available for inspection planning in your incoming goods, production and outgoing goods sections. The calibration intervals are calculated dynamically, taking into account the type of application, location and wear. This demonstrably reduces maintenance and calibration costs. Our integrated CASQ-it GMS gauge management solution includes:
Gauge management
Gauge capability checks
Calibration interval monitoring
A calibration data exchange with external service providers according to VDI/VDE 2623
Gauge inventory analyses and reports
PRODUCTION PART APPROVAL PROCESS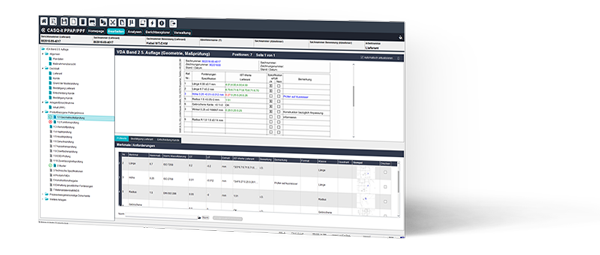 CASQ-it PPAP controls and documents your sampling, production and product approval processes. This also includes the integration of your suppliers into the approval, requalification and re-sampling processes by the PPAP software in order to exchange reports on a paperless basis. CASQ-it PPAP guides you through the approval process step by step:
Selection of the approval process
Detailed planning
Sampling
Production part approval process
Reporting
CASQ-it PPAP reliably controls your approval processes and documents these in accordance with IATF 16949, VDA2, AIAG and DIN EN 9102.

CAQ QUALITY ASSURANCE SOFTWARE IN YOUR MATERIALS PROCESS


CASQ-it monitors quality – from the procurement stage, through the production process and right up until the products are shipped out to the customers. Quality checks and analysis of the test results allow defects to be detected at an early stage. Depending on the type of production involved, CASQ it has a range of modules to help you to optimally map out your processes.

Our CASQ-it CAQ solutions for
guarantee quality and reliability at every stage in the production process.

WARENEINGANGSPRÜFUNG UND LIEFERANTENMANAGEMENT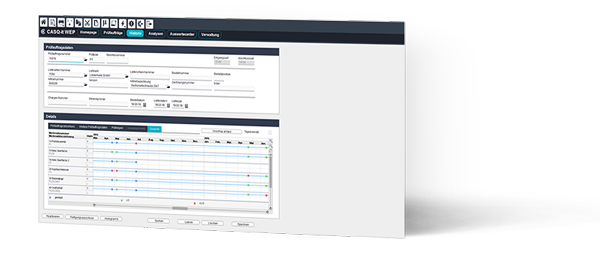 Our CASQ-it IGI module lets you fulfill the legal requirements according to Section 377, paragraph 1, HGB (German Commercial Code) whilst maintaining the quality of your procurement process. The results of the incoming goods inspections, hard facts and individual soft facts provide an objective supplier evaluation. This quality information can be integrated into your ERP system, thus providing staff in the procurement section with a reliable basis on which to make a strategic supplier selection – whilst still completing the order process. This allows the costs resulting from defects caused by third parties to be reliably reduced. In order to maintain quality levels within your procurement process, this module incorporates the following steps:
Strategic supplier selection
Inspection job generation in interaction with your ERP system
Optimization of test frequencies through test dynamization
Incoming goods inspections
Correction of the supplier evaluation should a defect be discovered in arrears
Integrated supplier management
EFFICIENT PRODUCTION MANAGEMENT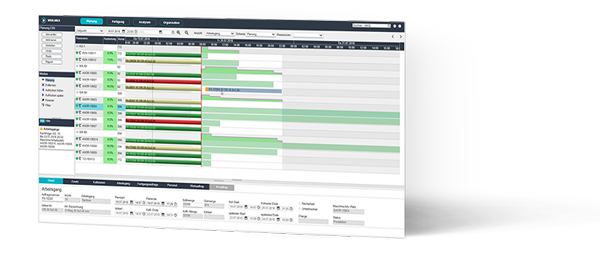 Our MESQ-it solution helps you to recognize optimization potential in your production process and to flexibly react to any production events that may arise. MESQ-it monitors and optimizes all your production processes – from planning the production process and managing your resources (operating materials, personnel) to monitoring your production in real time and analyzing your performance. The following MES indicators:
Lead times
Adherence to delivery times, for example, by an individual workstation
Machine utilization, aimed at revealing spare capacity
Machine efficiency
Reject rates
Process efficiency
let you evaluate your production system and investigate the causes of possible weak points in a targeted fashion. Software solutions for preventive machine and plant maintenance, coupled with qualification management features, round off your MESQ-it system – turning it into a fully integrated production management system.

BATCH, INTERMEDIATE AND PRODUCTION INSPECTIONS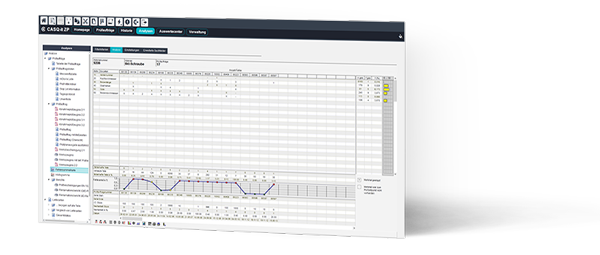 Our CASQ-it BII module selectively monitors and evaluates the quality of the production process for batch orders, small series and unique, custom products produced both in-house and by external, third parties. This module supports
Inspection job generation
Inspections of processes supporting the production process
Documentation and analysis of the inspection results
CASQ-it BII controls the subsequent workflow based on these inspection results: Release of the production order to move it on to the next stage, shipment with a corresponding certificate, or repair with a repeat inspection process. CASQ-it BII automatically communicates the test results to your ERP system.

STATISTICAL PROCESS CONTROL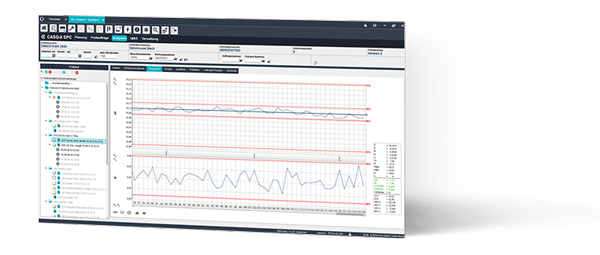 CASQ-it SPC monitors and evaluates your series and mass production processes. And provides you with exactly the information you need to control and improve your processes in the shape of qualified analyses, such as control charts and defect control charts, which are based on statistical analyses (SPC). Controlling your production with CASQ-it SPC incorporates the following steps:
Work preparation and inspection job generation
Operator self-tests at the test station
Direct evaluation of the test results
Detailed process analyses
Your production employees are integrated into the process monitoring process through the special operator self-test user interface. This strengthens their feeling of responsibility whilst providing them with optimal support.

OUTGOING GOODS QUALITY CONTROL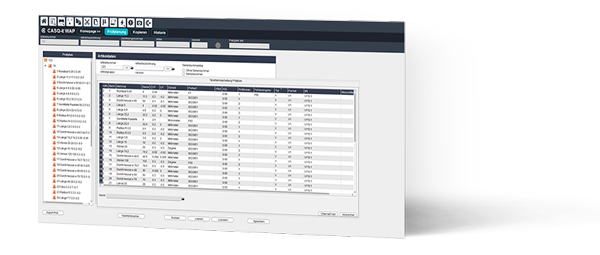 The quality inspections in your outgoing goods section complete the materials process and are supported by our CASQ-it OGI module. In the event of a defect, remedial measures can be initiated – with corresponding repeat tests and documented repair loops. A certificate is then issued, documenting the quality and flawless state of the product and that it includes all the agreed characteristics. CASQ-it OGI supports the following processes:
Delivery preparation and inspection job generation
Outgoing goods inspections
Preparation of the delivery documents with certificates
Analysis of the delivery quality
CAQ FOR YOUR QUALITY MANAGEMENT AND SUPPORT PROCESSES

CASQ-it helps you to make future-proof decisions by providing consolidated information. Indicators, compact images and individual reports quickly provide you with concentrated information on the quality situation throughout all your processes. CASQ-it actively controls your complaints processes and reveals key defect areas – and also efficiently evaluates and processes your field returns. Standard-compliant audits monitor and document that the quality levels of your products and processes have been accordingly maintained.

CASQ-it offers you the following CAQ modules to support you in operating an integrated quality monitoring system:
INTEGRATED QUALITY MANAGEMENT INFORMATION SYSTEM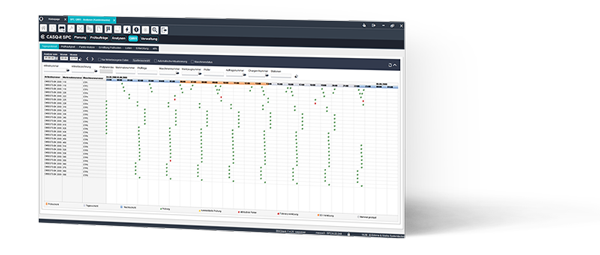 CASQ-it QMIS is your quality cockpit. It provides you with all the management information you need for your quality management (QM) processes. You are the one who determines which information you need – and when and in what form you need it – to be able to assess current quality levels and how your quality is progressing. CASQ-it QMIS adapts flexibly to your information needs.
CASQ-it QMIS is integrated into the respective CASQ-it modules like an indicator cockpit – offering you an extended range of services in the following areas:
Incoming goods inspections,
Production inspections,
SPC
Outgoing goods inspections.
This information is automatically called up, consolidated and compiled in tabular and graphical indicators.

CENTRALIZED TASK MANAGEMENT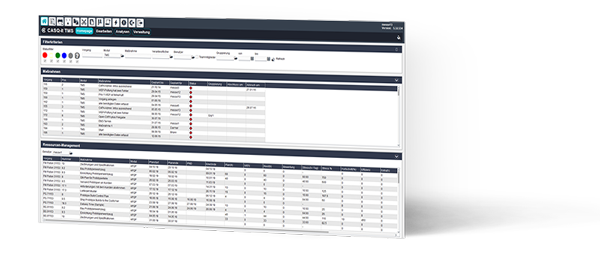 Our CASQ-it TMS module centralizes your task management processes. It coordinates the flow of information, tracks the processing status of your tasks and monitors deadlines. These tasks originate in other CASQ-it modules and include the tasks from your APQP, FMEA, auditing and complaints tracking systems. CASQ-it TMS also incorporates your test orders, deadline monitoring and status feedback. It can also likewise be used to centrally control and monitor all the other tasks you have assigned independently of CASQ-it. Individual to do lists that include the status, up-to-date indicators and analyses, additionally support you in keeping an eye on your deadlines. This task management software includes the following features:
Centralized task management,
Web-based task processing,

Automatic task monitoring with progress calculations,

Task analysis.
AUTOMATIC CONTROL OF ALL THE OPERATIONS AND PROCESSES AT YOUR COMPANY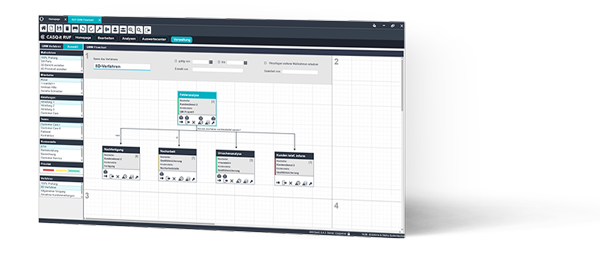 If you implement CASQ-it Quality Workflow Manager, all your procedures and processes will be controlled automatically. Work steps and event chains are set in motion according to your specifications. For example, information can be autonomously sent via email and to dos distributed to those responsible – both to internal recipients as well as to your customers and suppliers. CASQ-it QWM supports your workflow management in three steps:

Definition of your company workflows – whether they are directly linked to CASQ-it or not
Control of information and communications
Automated tracking of your procedures, including deadline monitoring
SUPPLIER, CUSTOMER AND INTERNAL COMPLAINT TRACKING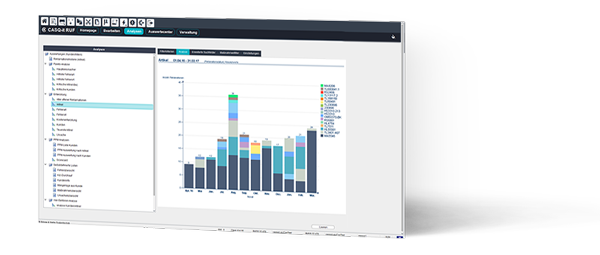 Our CASQ-it CMEA complaints management software ensures that your complaints and defects are efficiently tracked. Whether we are talking about stored 4D/8D procedures, complaints management via web browser or the import of complaints from other networked CASQ-it modules or customer portals – your complaints management system will be provided with just that support that you and your processes need. CASQ-it CMEA supports the following steps:
Complaints acceptance
Complaints processing
Cause analysis using Ishikawa diagrams and the 5 Whys
Management of immediate, remedial and prevention measures
Analysis of the main defect and cost areas using an integrated indicator system
MORE TRANSPARENCY IN YOUR WARRANTY MANAGEMENT SECTION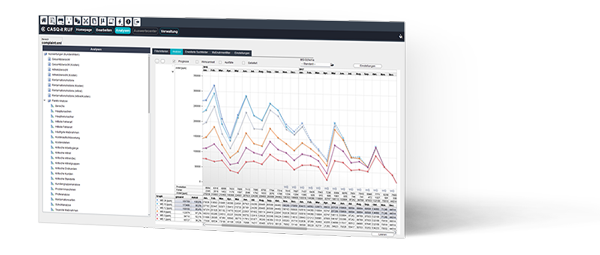 Our CASQ-it WM warranty management software supports your entire field return processing workflow. Through automatic data harmonization, CASQ-it combines all the field data from a wide range of OEM-specific formats. Implausible, incomplete and unauthorized damage notifications are automatically filtered out. Contestable recourse claims can be accordingly identified and rejected. At the same time, this creates a truly realistic picture of the long-term quality of the parts supplied. This ensures that targeted root cause analysis is conducted in order to be able to intervene in the processes and coordinate immediate and remedial measures. Additional impact analyses also monitor the success of these measures.

COMPREHENSIVE AUDIT MANAGEMENT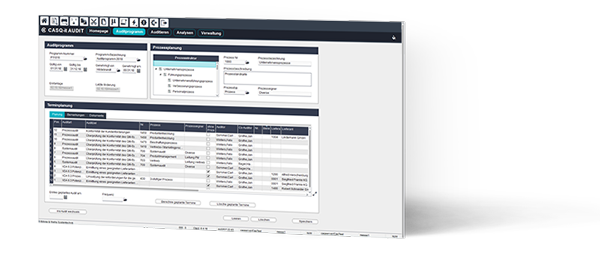 CASQ-it AUDIT supports your audit process throughout – from planning your audit program to executing and analyzing the audit results:
Audit program planning with an integrated auditor management feature
Audit execution
Measure control and tracking
Performance monitoring using graphical and tabular analyses
Auditing can be done flexibly – either online or offline – with our standard-compliant templates and question catalogs there to help you. Analyzing the trends and comparing results show the extent to which problems have been systematically eliminated.